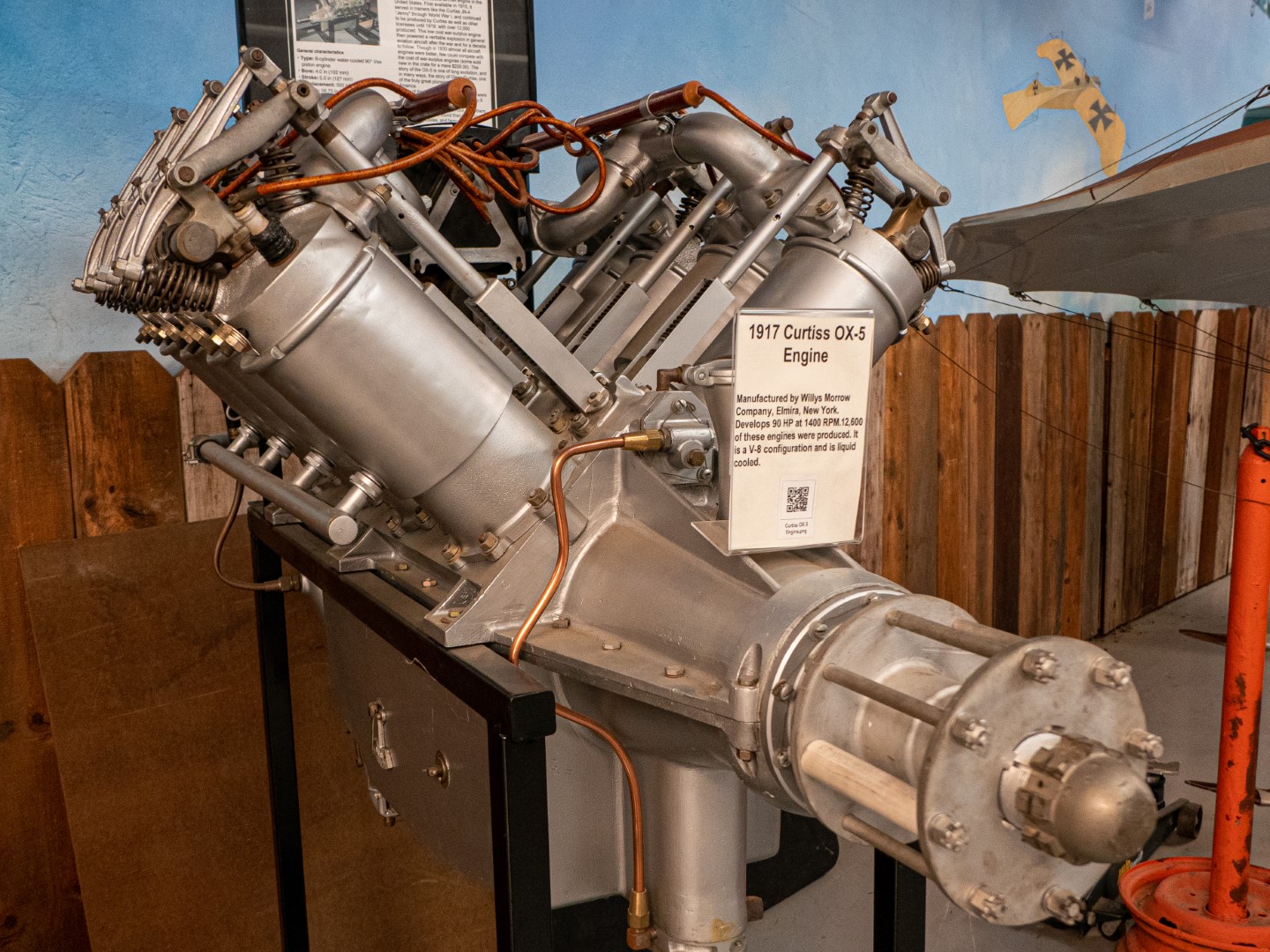 The 90 hp OX-5 was one in a series of Glenn Curtiss liquid-cooled V-8 aircraft engines, which had started as a series of air-cooled V-twins for motorcycles in 1902. The OX-5 proved economical on fuel, using only eight gallons per robust hour at 75% power, due to the relatively slow RPM of the engine. With robust torque output, the OX-5 could swing a big prop, producing more thrust. It was first available in 1915, remained in production to 1918, and was used in a number of pilot training aircraft, notably the famous Curtiss JN-4 Jenny. Thousands of relatively inexpensive (as low as $20 each, in a crate) war-surplus OX-5 engines were installed into various general aviation aircraft during the 1920s and 1930s.
Glenn Curtiss was born in May 1878 in Hammondsport, New York (in the Finger Lakes district) and as he grew up displayed an early aptitude for mechanical devices. Academics held little interest for Glenn, and he dropped out of high school at the age of 14. After trying a kit-built engine to attach to one of his bicycles, he was soon producing motorcycle engines of his own design and started the Curtiss Company in 1902. The first aero engine application was a 5 hp air-cooled V-twin model sold in 1905 for airship propulsion.
Among the aircraft that used the OX-5 included:
– Laird Swallow
– Travel Air 2000
– Standard J-1 trainer of WW I
– Waco 9 and 10
– American Eagle
– Curtiss JN-4 Jenny trainer of WW I
– Pitcairn PA-4
– Fleetwing II
– Buhl-Verville CW-3 Airster.
The OX-5 was notorious for its short time between overhauls (around 50 hours for the valvetrain), and the fussy valvetrain lubrication that had to be hand-greased before every flight. Later, in the 1920s and 1930s, aftermarket kits became available, as from Miller in Los Angeles, which enhanced the valvetrain lubrication, used roller rockers, and extended time between overhauls. The OX-5 valvetrain layout was unusual, utilizing a concentric pull-tube (for intake) and push-rod (for exhaust), actuated by a camshaft in the Vee.
| Engine Name | Curtiss OX-5 |
| --- | --- |
| Specifications | |
| Manufactured by: | Curtiss Aeroplane and Motor Company |
| Cylinder Configuration | V-type |
| Number of Cylinders | 8 |
| Bore (inches) | 4 |
| Stroke (inches) | 5 |
| Displacement (cubic inches) | 503 |
| Fuel Type | gasoline |
| Electrical | magneto with single spark ignition |
| Horsepower (max for T.O.) | 90 |
| Rated RPM | 1,400 |
| Compression Ratio | 4.9:1 |
| Cooling System | liquid cooled with radiator |
| Dry Weight (lb) | 390 |
This engine is currently on loan to the Hiller Museum.