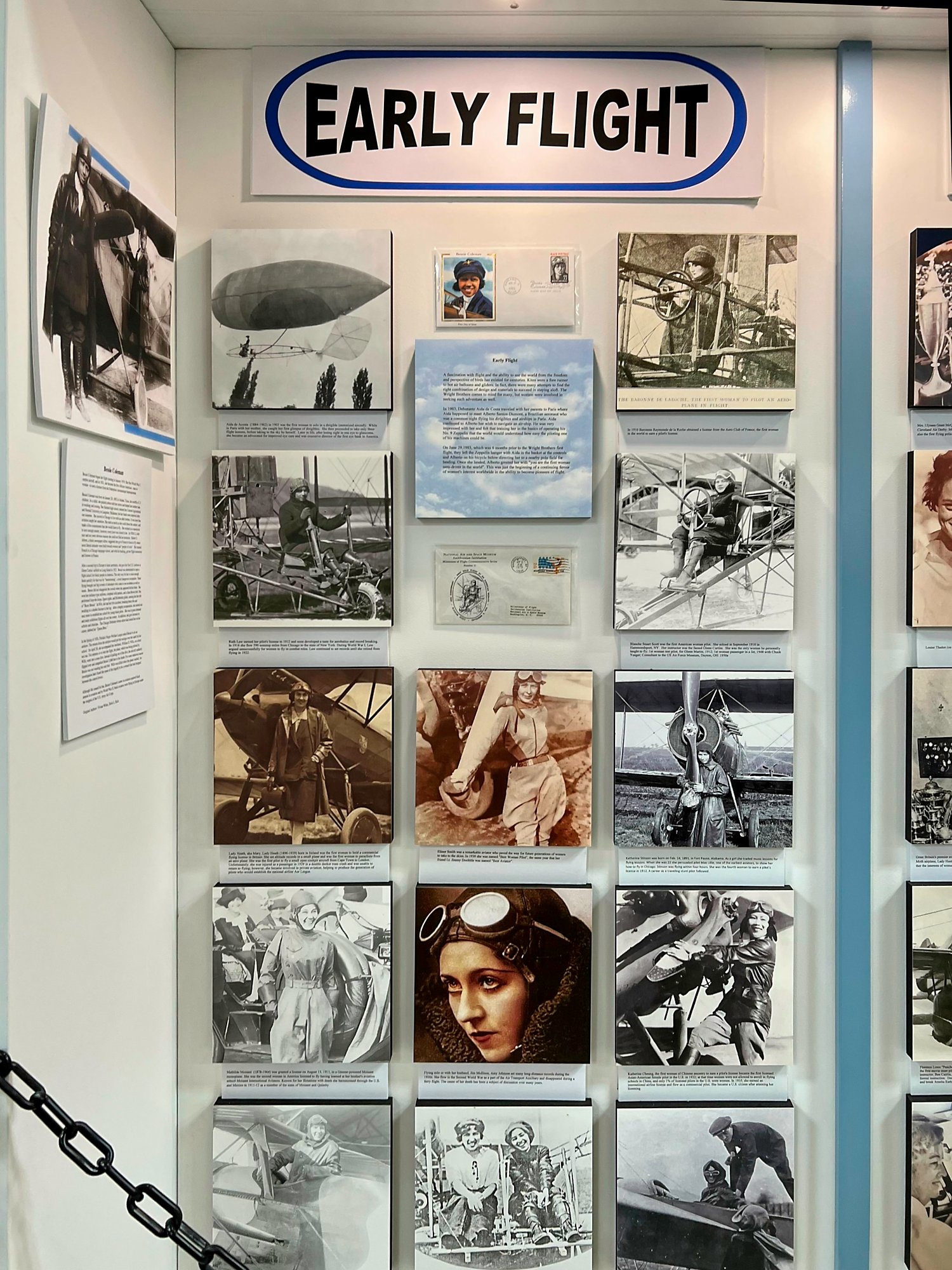 When we talk about early flight, The Wright Brothers comes to mind for many, but women were involved in seeking such adventure as well.
On June 29, 1903, which was 6 months prior to the Wright Brothers first flight, Aida de Costa, with assistance on the ground from Alberto Santos-Dumon, piloted a Zeppelin for a short distance in Paris. Once she landed, Alberto greeted her with "you are the first woman aero-driver in the world". This was just the beginning of a continuing fervor of women's interest worldwide in the ability to become pioneers of flight.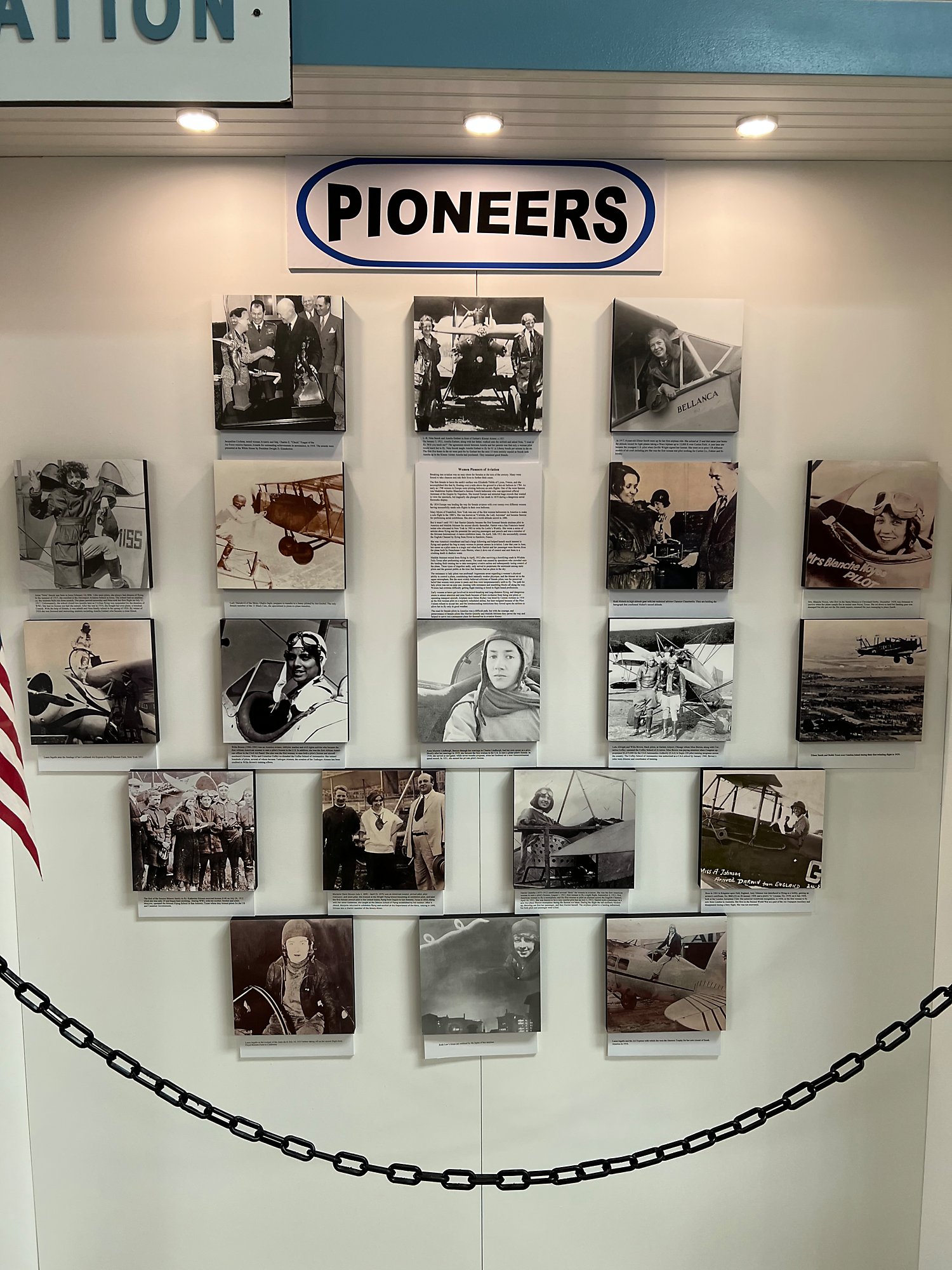 Breaking into aviation was no easy chore for females at the turn of the century. Many were forced to take chances and risk their lives to further their cause.
The first female to leave the earth's surface was Elizabeth Thible of Lyons, France, and she accomplished this feat by floating over a mile above the ground in a hot-air balloon in 1784. As early as 1798 women in Europe were piloting balloons on solo flights. By 1834 Europe was leading the way for female aviators with over twenty-two different women having successfully made solo flights in their own balloons. Mary Myers of Frankford, New York was one of the first women balloonists in America to make a solo flight in the 1880's. She was known as "Carlotta, the Lady Aeronaut" and became famous for performing aerial exhibitions. She also set a world altitude record in 1886.
1911 that Harriet Ouimby became the first licensed female airplane pilot in America and Matilde Moisant the second shortly thereafter. Harriet was a San Francisco based writer who relocated to New York in 1903 to write for Leslie's Weekly. She wrote a series of articles about flying and the potential for carrying passengers and parcels and was a member of the Moisant International Aviators exhibition team. On April, 16th 1912 she successfully crosses the English Channel by flying from Dover to Hardolot, France.
Women had extreme difficulty getting flight training or hired in flight-based professions.
Early women aviators got involved in record-breaking and long-distance flying, and dangerous stunts to attract attention and raise funds because of their exclusion from being test pilots or operating transport aircraft. Airplane racer Helen Richey was hired by Central Airlines in 1934 as the first woman pilot on a regularly scheduled airline, but later resigned because of the Pilot Unions refusal to accept her, and the condescending restrictions they forced upon the airlines to allow her to fly only in good weather.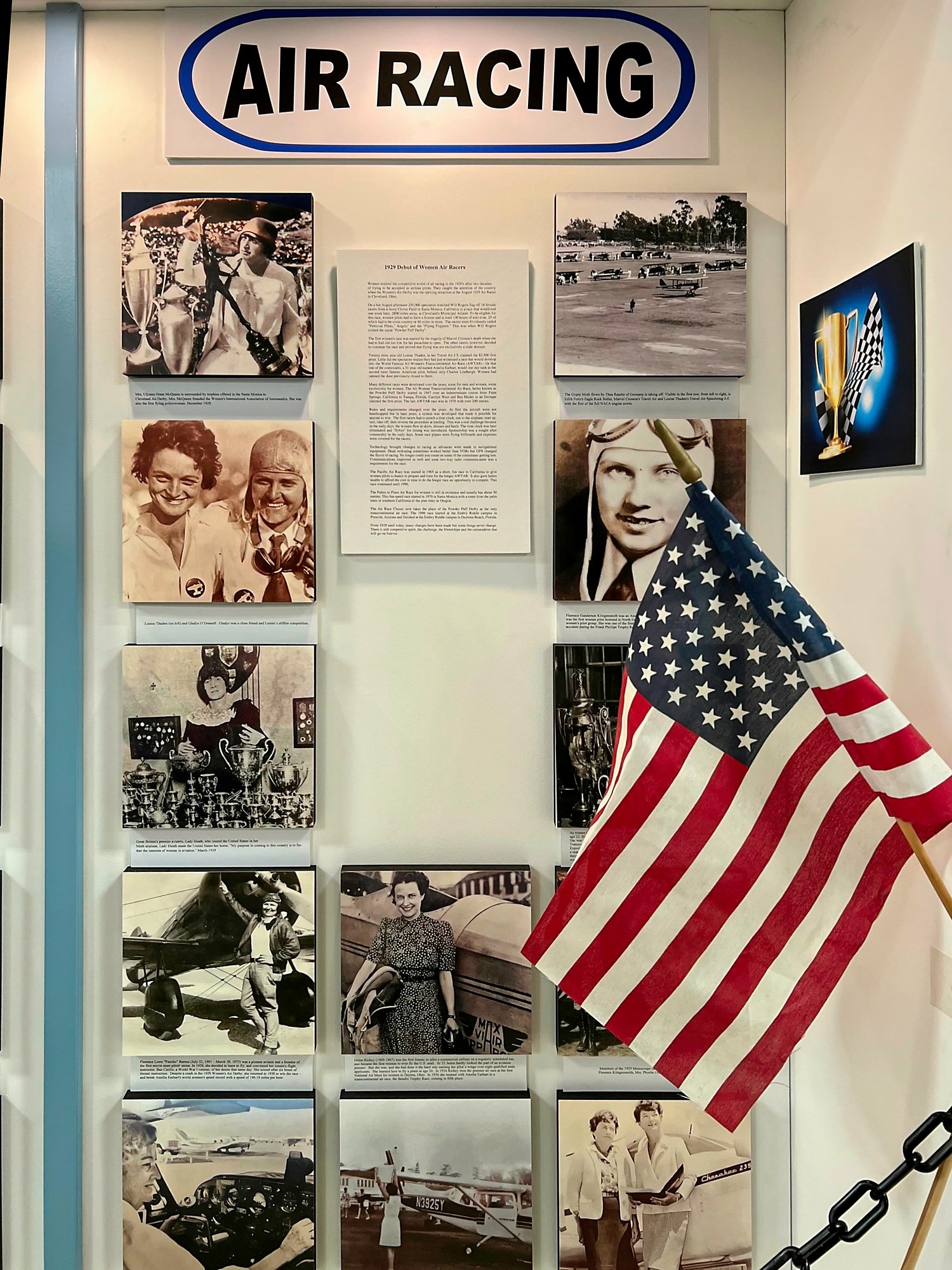 Women entered the competitive world of air racing in the 1920's after two decades of trying to be accepted as serious pilots. They caught the attention of the country when the Women's Air Derby was the opening attraction at the August 1929 Air Races in Cleveland, Ohio.
On a hot August afternoon 250,000 spectators watched Will Rogers flag off 18 female racers from a dusty Clover Field in Santa Monica, California in a race that would end one week later, 2800 miles away, at Cleveland's Municipal Airport. To be eligible for this race, women pilots had to have a license and at least 100 hours of solo time, 25 of which had to be cross country or 40 miles or more. The racers were frivolously called
"Petticoat Pilots," Angels" and the "Flying Flappers." This was when Will Rogers coined the name "Powder Puff Derby".
The first women's race was marred by the tragedy of Marvel Crosson's death when she had to bail out too low for her parachute to open. The other racers, however, decided to continue the race and proved that flying was not exclusively a male domain.
Twenty three year old Louise Thaden, in her Travel Air J-5, claimed the $2,500 first prize. Little did the spectators realize they had just witnessed a race that would develop into the World Famous All-Women's Transcontinental Air Race (AWTAR) – Or that one of the contestants, a 31 year old named Amelia Earhart, would one day rank as the second most famous American pilot, behind only Charles Lindbergh. Women had opened the door previously closed to them.

Many different races were developed over the years, some for men and women, some exclusively for women. The All- Woman Transcontinental Air Race, better known as the Powder Puff Derby started in 1947 over an indeterminate course from Palm Springs, California to Tampa, Florida. Carolyn West and Bea Medes in an Ercoupe claimed the first prize.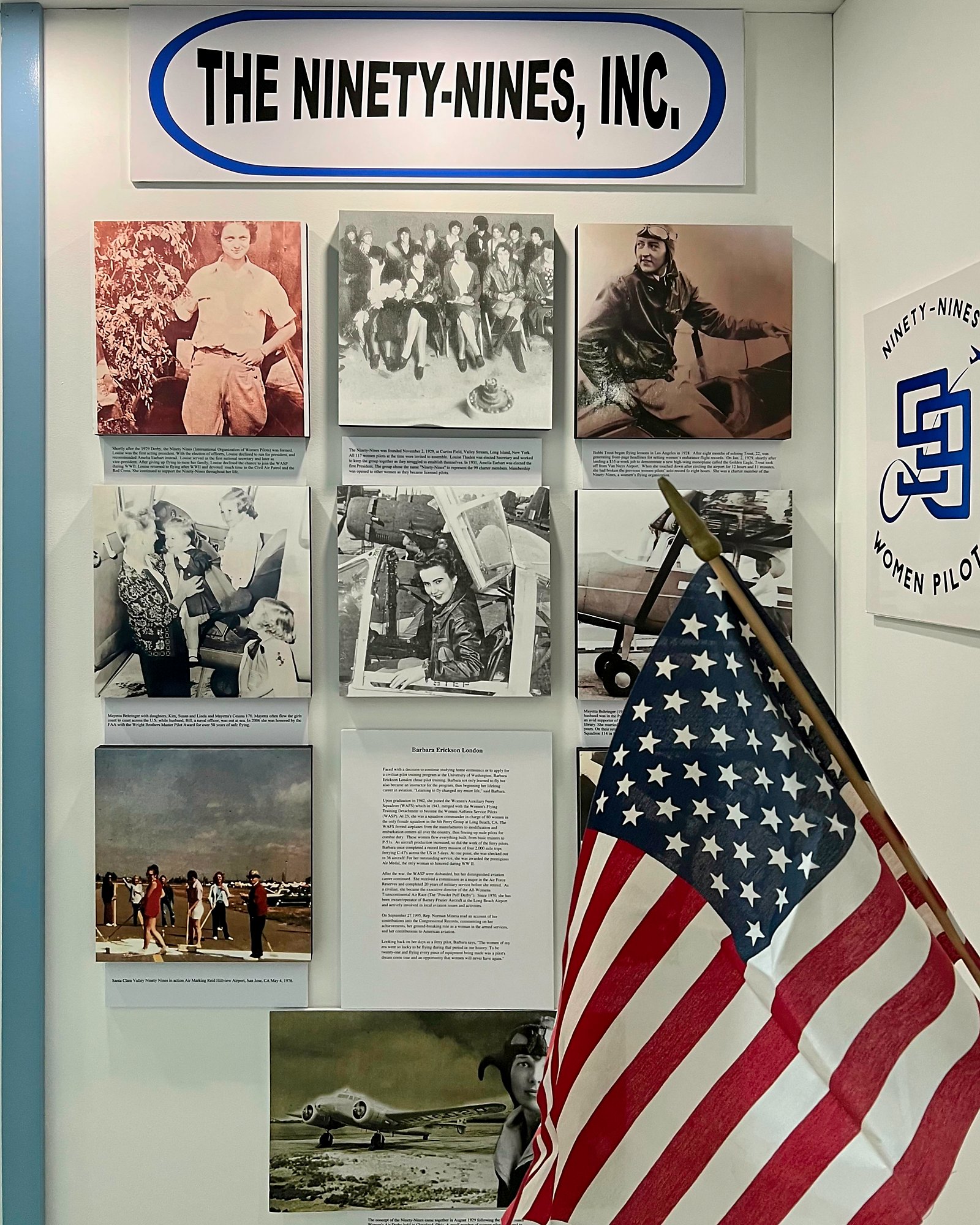 The organization was founded November 2, 1929, at Curtiss Field, Valley Stream, Long Island, New York. All 117 women pilots at the time were invited to assemble for mutual support, the advancement of aviation and to create a central office to keep files on women in aviation. Louise Thaden was elected Secretary and worked to keep the group together as they struggled to establish themselves and to grow. Those early purposes continue to guide the organization today.
In 1931, Amelia Earhart was elected the first President, and the group selected the name "Ninety-Nines" to represent the 99 charter members. Membership was immediately opened to other women as they became licensed pilots. In recent years membership has been opened to include women with student pilot certificates.
Amelia Earhart is one of the more recognized aviators in history. She started flying in 1920. In 1926 she flew in the first Women's Air Derby, a cross country air race from Santa Monica, CA to Cleveland, OH. In this race, Amelia finished in third place. It was after this race that some of the participants, along with other women pilots, joined to form an association of women pilots called the Ninety Nines. Amelia was the first elected president of what was to become an international women's pilot's organization.
Amelia was the first person to make a transcontinental flight in an Autogiro, an early helicopter-like aircraft. In 1932, flying her Lockheed Vega, Amelia flew solo across the Atlantic. In 1935, Amelia became the first person to fly solo between Honolulu, HI and Oakland, CA, flying 18 hours, 16 minutes. In 1937 Amelia began her most ambitious flight, a trip around the world. Flying a twin-engine Lockheed Electra, Amelia disappeared on the longest leg of the fight from New Guinea to Howland, Island, a one mile by two mile strip of sand near the equator. On July 18, 1937, after extensive search, the US Navy declared Amelia lost at sea.
Women Air Force Service Pilots (WASPS)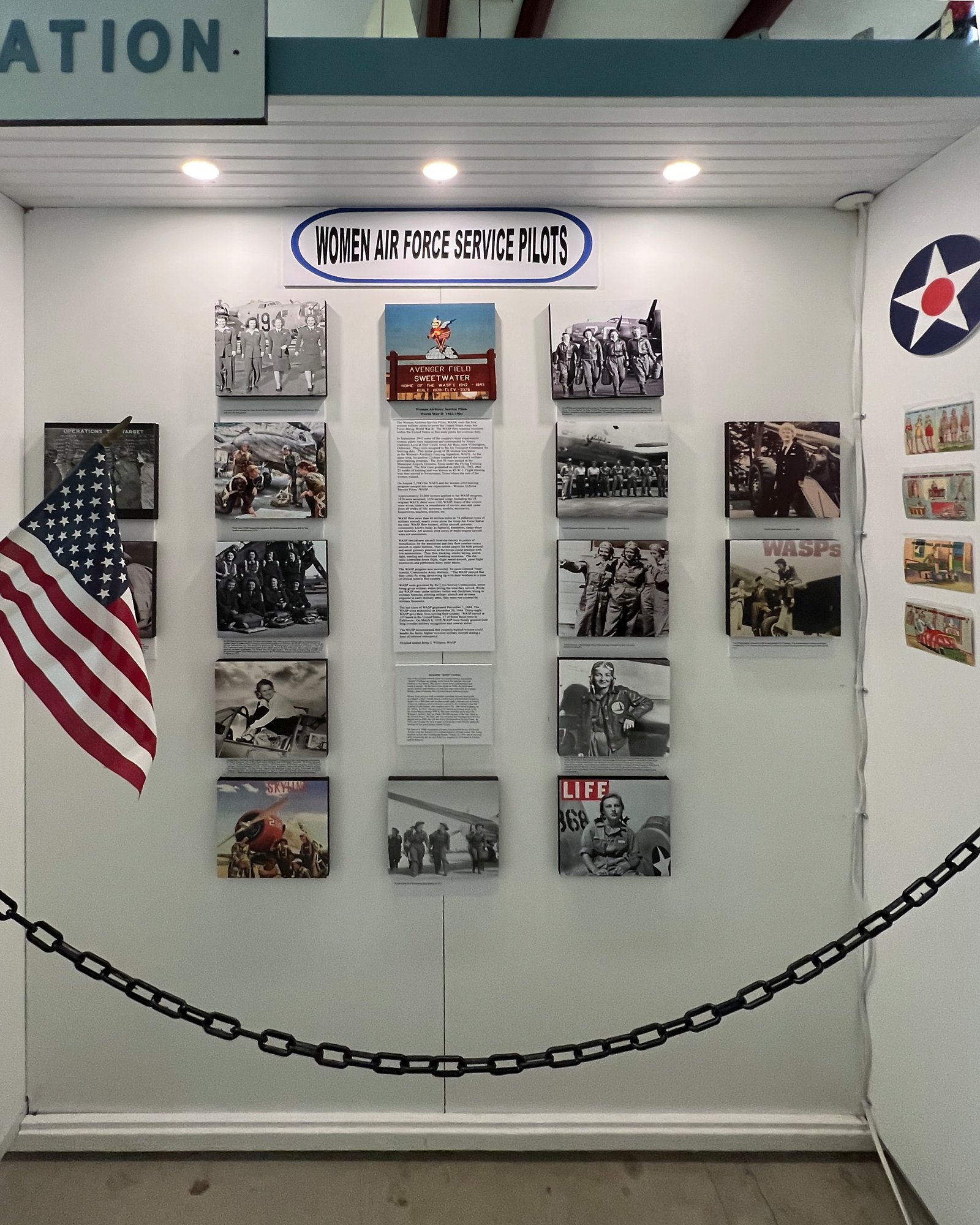 The Women Airforce Service Pilots (WASP) (also Women's Army Service Pilots or Women's Auxiliary Service Pilots) was a civilian women pilots' organization, whose members were United States federal civil service employees. Members of WASP became trained pilots who tested aircraft, ferried aircraft, and trained other pilots. Their purpose was to free male pilots for combat roles during World War II. Despite various members of the armed forces being involved in the creation of the program, the WASP and its members had no military standing.
WASP was preceded by the Women's Flying Training Detachment (WFTD) and the Women's Auxiliary Ferrying Squadron (WAFS). Both were organized separately in September 1942. They were pioneering organizations of civilian women pilots, who were attached to the United States Army Air Forces to fly military aircraft during World War II. On August 5, 1943, the WFTD and WAFS merged to create the WASP organization. 
The WASP arrangement with the US Army Air Forces ended on December 20, 1944. During its period of operation, each member's service had freed a male pilot for military combat or other duties. They flew over 60 million miles; transported every type of military aircraft; towed targets for live anti-aircraft gun practice; simulated strafing missions and transported cargo. Thirty-eight WASP members lost their lives and one, Gertrude Tompkins, disappeared while on a ferry mission, her fate still unknown. In 1977, for their World War II service, the members were granted veteran status, and in 2009 awarded the Congressional Gold Medal.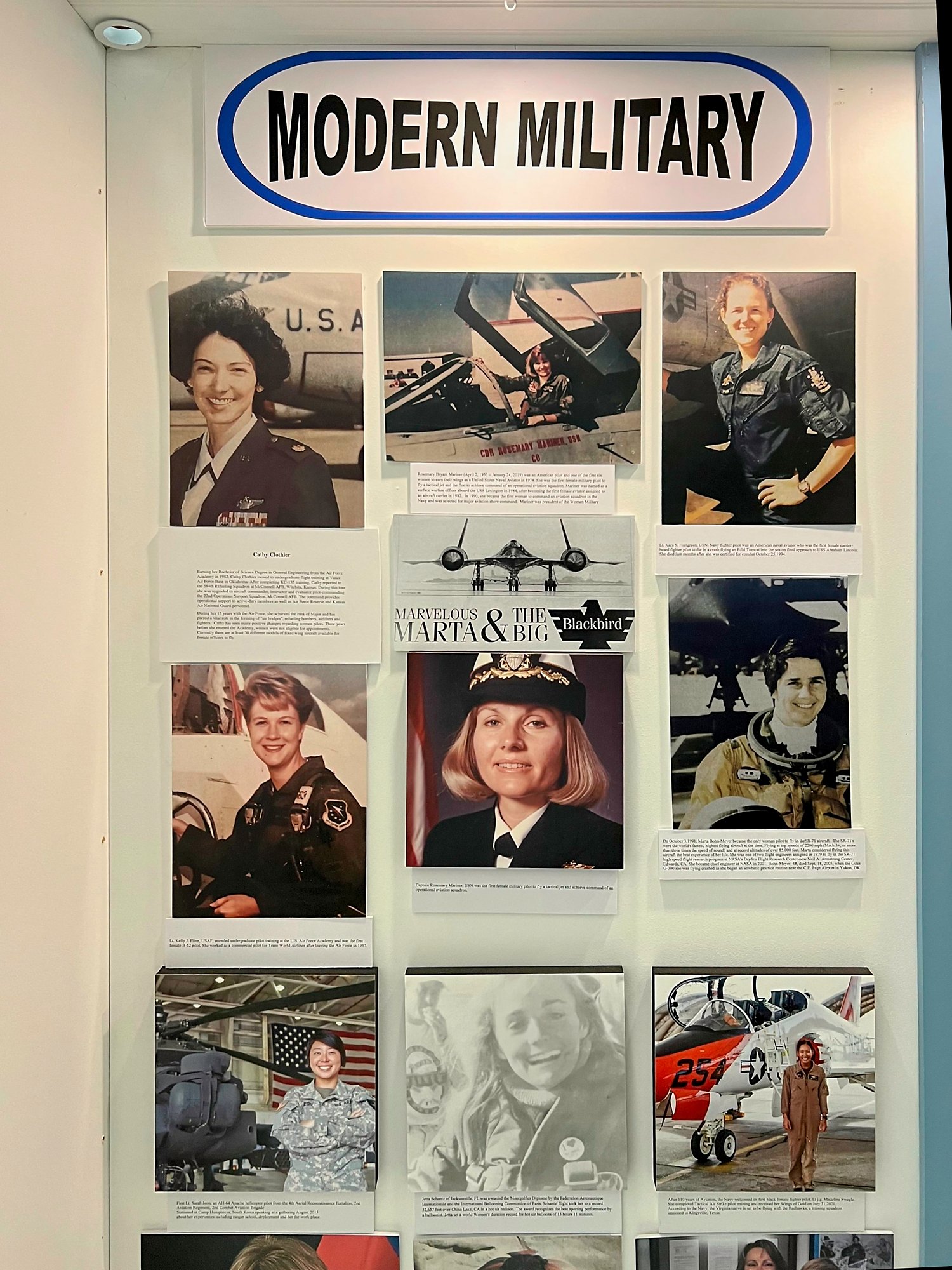 Captain Rosemary Bryant Mariner ( April 2, 1953 – January 24, 2019) was an American pilot and one of the first six women to earn their wings as a United States Naval Aviator in 1974. She was the first female military pilot to fly a tactical jet and the first to achieve command of an operational aviation squadron.
Kara S. Hultgreen (October 5, 1965 – October 25, 1994) was an American naval aviator who served as a lieutenant in the United States Navy and was the first female carrier-based fighter pilot in the U.S. Navy. She was also the first female fighter pilot in the U.S. military to die in a crash. She died just months after she was certified for combat, when her F-14 Tomcat crashed into the sea on final approach to USS Abraham Lincoln.
Marta Bohn-Meyer was born in Amityville, New York. Marta Bohn-Meyer served as chief engineer of the NASA Dryden Flight Research Center. Bohn-Meyer was involved in a variety of research projects at NASA — she was the first female crewmember assigned to the Lockheed SR-71, serving as navigator during studies of aerodynamics and propulsion that used the SR-71 as a testbed. She was also project manager in a study of advanced laminar flow wing design using the General Dynamics F-16XL aircraft.
Madeline Swegle is a United States Naval Aviator. She is the U.S. Navy's first black female tactical jet pilot. Swegle is currently a Lieutenant in the U.S. Navy. She is from Burke, Virginia. She is a 2013 graduate of Lake Braddock Secondary School and a 2017 graduate of the U.S. Naval Academy. She reported to VT-21 in Kingsville, Texas to complete the Tactical Air Strike pilot training syllabus, which she completed on July 7, 2020, making her the first black female tactical jet pilot in the U.S. Navy.
Sponsored by the Rotary Club of Morgan Hill. Constructed and arranged by Dan and Carol Livingston.