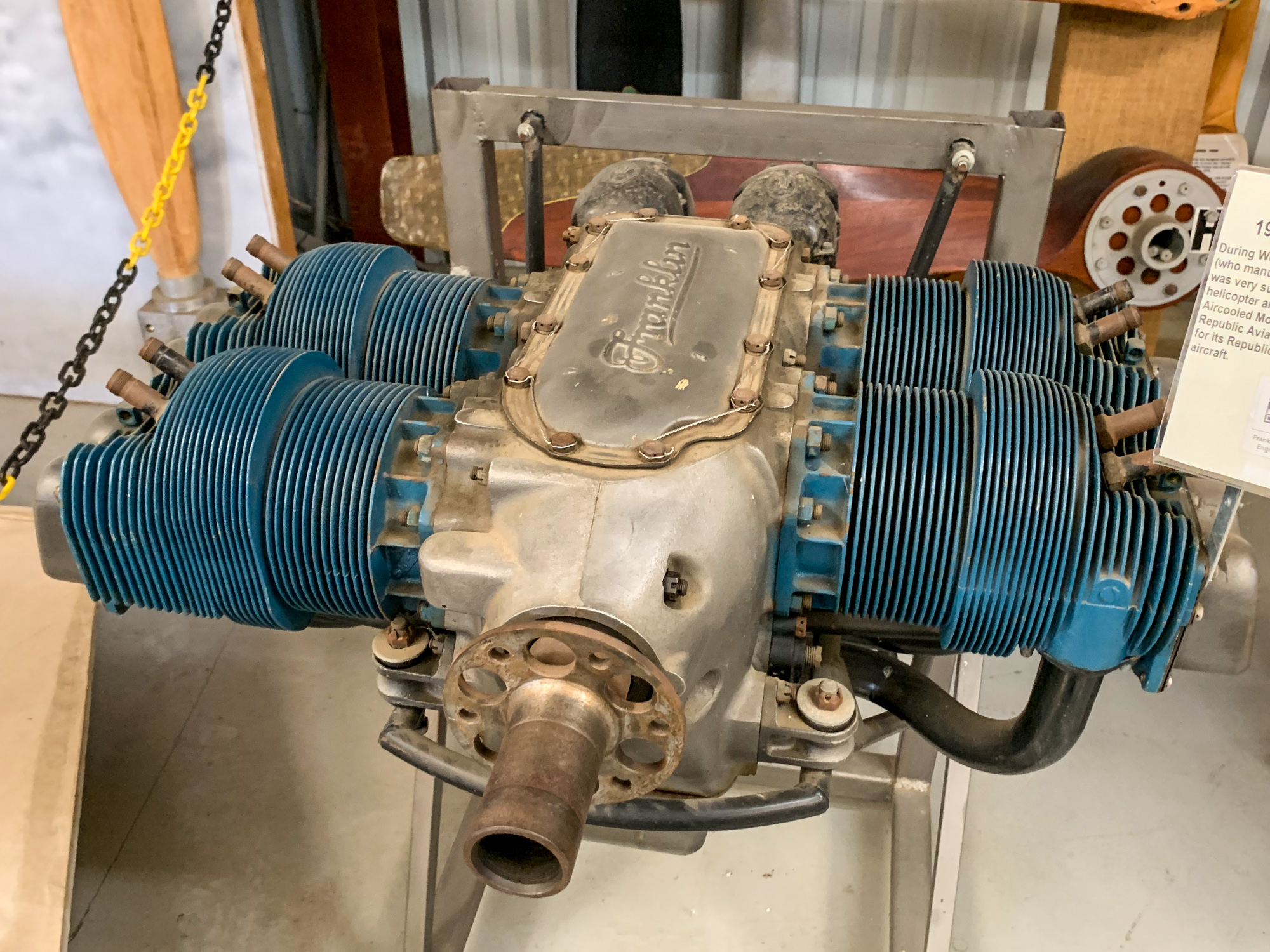 The manufacturing organization that began producing Franklin engines was known as the H.H. Franklin Company in 1902 operating in Syracuse, New York. They made Franklin air-cooled engines for automobiles. Barely surviving bankruptcy in 1933, the company was purchased by a group of ex-employees and renamed Aircooled Motors in 1937. Although the company name had been changed, their products were still marketed under the Franklin name.
Over the years, Franklin produced opposed-cylinder (flat) air-cooled aircraft engines of 4, 6, 8, and 12 cylinders. The Franklin 199-E3-90 was a 90 hp flat-four. A key application was the Culver Cadet designed by Albert Mooney (first flight in 1939). Other applications included the Skyranger 190F by Commonwealth and The Stinson 108 Voyager prototype.
During World War II Aircooled Motors was very successful in producing helicopter and airplane engines. In 1945 Republic Aviation purchased Aircooled to make engines for the Republic Seabee light amphibious airplane.
In 1947 Air-cooled was purchased by the Tucker Car Corporation to produce an engine for the 1948 Tucker Sedan. Tucker canceled all of its aircraft contracts and focused on automotive engines for the Tucker Corporation. This was a significant move by its new owner as at the time Aircooled held over 65% of postwar U.S. aviation engine production contracts. When the Tucker Car Corporation failed Aircooled nearly failed with it.
Tucker and his family continued to own the firm until 1961 when the family sold it to Aero Industries, which restored the name of the Franklin Engine Company. In 1975 the government of Poland bought the company and moved it to Poland under the name of PZL-Franklin and later to PZL-F.
Source: Excerpted from en.wikipedia.org/wiki/Franklin_Engine_Company