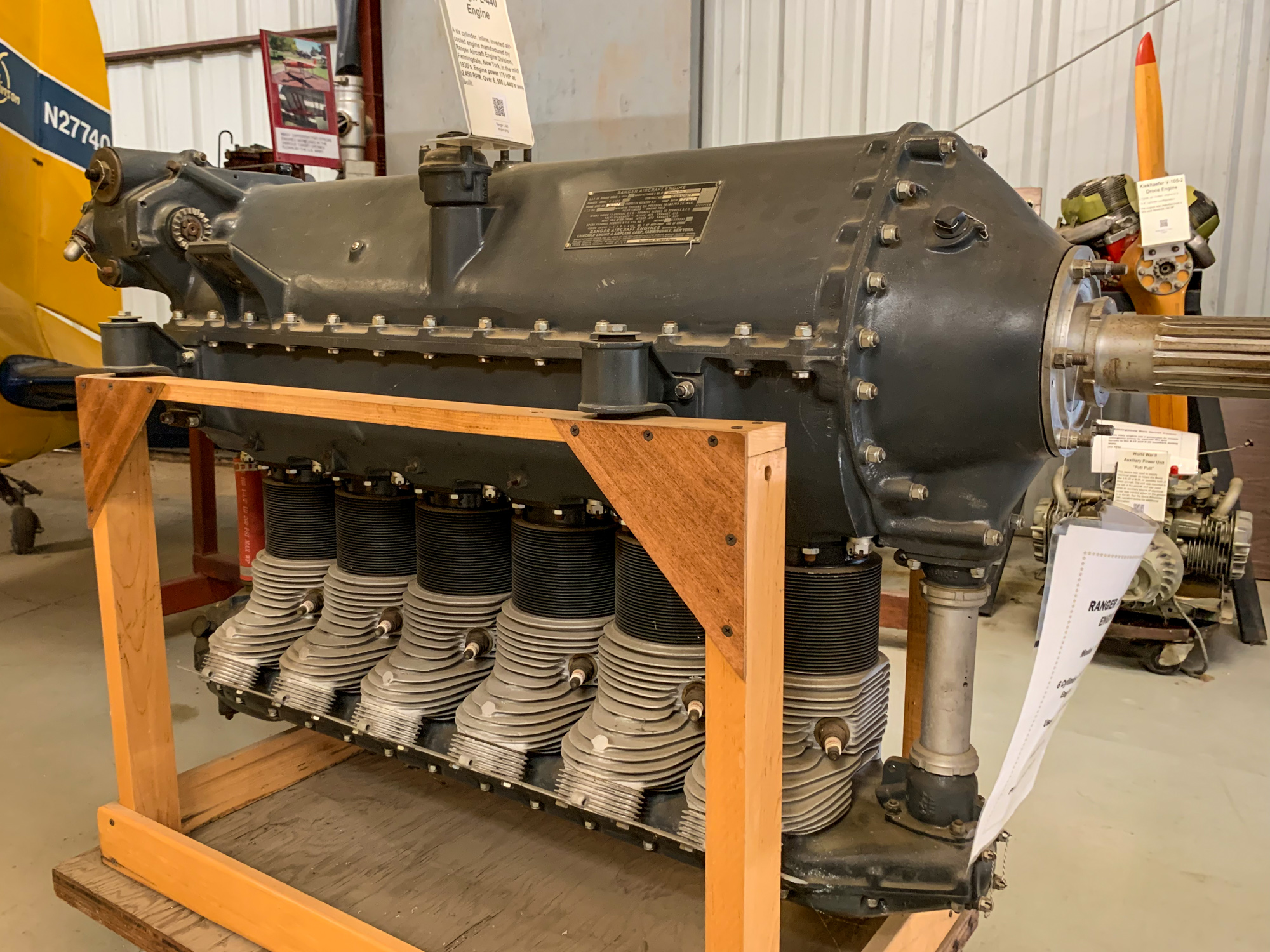 The Fairchild Aerial Camera Corporation of Farmingdale, Long Island, New York, entered the aircraft engine business in 1925, by forming the Fairchild-Caminez Engine Corporation to develop and produce air-cooled engines for the US Army Air Corps. The company was eventually renamed the Fairchild Engine and Airplane Corp. During the 1930's they developed the Ranger L-440 (an inverted inline-6) that initially developed 175 HP. This engine was continually refined and ultimately produced 220 HP.
Over 6,500 of these engines were produced and they were used in a large number of different aircraft: Douglas O-14, Fairchild trainers (PT-19, T-19, PT-26), UC-61, UC-86, Northwestern-Waco PG-2, J-4F, Falconar SAL Mustang (a Canadian 2/3 scale P-51D Mustang kit-built), Grumman G-44 Widgeon, and St. Louis PT-LM-4.
The advantages of an inline, inverted engine are that pilot forward visibility in increased and drag is reduced due to the cylinders being in a straight line presenting a reduced frontal area (exposure to the airflow).
| Engine Name | Ranger L-440 |
| --- | --- |
| Specifications | |
| Manufactured by: | Fairchild Engine and Airplane Corp. |
| Cylinder Configuration | inverted inline |
| Number of Cylinders | 6 |
| Bore (inches) | 4.13 |
| Stroke (inches) | 5.5 |
| Displacement (cubic inches) | 441 |
| Fuel Type | gasoline |
| Electrical | magneto with dual spark ignition |
| Horsepower (max for T.O.) | 175 (for 6-440C-2 version) |
| Rated RPM | 2,450 |
| Compression Ratio | 6 to 1 |
| Cooling System | air-cooled |
| Dry Weight (lb) | 376 |