Wings of History is honored to welcome Jerry Whiting, noted Bay Area Author, as a guest speaker at our Museum Open House on October 21, 2023. He has done extensive research on WWII 15th Air Force accounts of Airmen who served in the European Theater of Operation. He has traveled the world, including the Pentagon sharing his knowledge and adventures. Please join us at WOH for his talk, "Amazing Stories Never End (even after the books are finished)".  The talk will take place in the Wings of History Club House at 11 AM.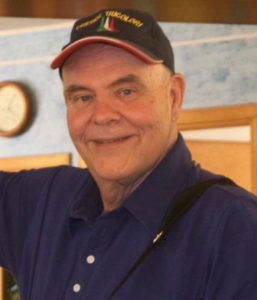 Jerry was born in Sioux Falls, South Dakota and moved to Pleasant Hill, California (San Francisco Bay Area) when he was in high school. He obtained a Bachelor's Degree at U.C. Santa Barbara and later a Master's degree at John F. Kennedy University. He worked as a counselor for a few years and then began a 25+ year career in law enforcement in the San Francisco Bay Area, working in a variety of assignments including patrol and the detective bureau. He was also a hostage/crisis negotiator during the last 15 years of his career. During this time he had the unique opportunity to work with several European police departments. In addition, he worked on a special project with the tribal police on the Cheyenne River Sioux Indian Reservation in South Dakota.
Jerry has always enjoyed investigating history, culminating in his first book, I'm Off To War, Mother, But I'll Be Back. He ultimately took an early retirement to pursue his passion, resulting in other books, including Don't Let the Blue Star Turn Gold, Veterans in the Mist, and Of Broad Stripes and Bright Stars. In addition, he published Missions by the Numbers, a group history of the 485th Bomb Group, a group that flew B-24 bombers out of Italy. Along the way he found the time to produce two documentaries, In the Shadow of Mt. Vulture and New Year's At Ramitelli: A Safe Haven for Change. The Ramitelli documentary tells the story of a unique relationship between one American bomb group and the Tuskegee Airmen. All of his previous works are about WWII and are non-fiction. His most recent book, It Don't Mean Nothin' Man: We're Back in the World Now is Jerry Whiting's sixth book, and is about Vietnam.
His interest began while researching his father's story, resulting in that first book. He became the Historian for his father's bomb group association and during the research for some of his books, while working with European researchers, he located crash sites in Europe that were previously undiscovered, some with remains of American servicemen. This information was shared with the Dept. of Defense, resulting in the recovery of remains. In 2009 (and again in 2017) Jerry was invited to the Pentagon to give training seminars to Dept. of Defense investigators on the recovery of MIA's. This is a topic close to his heart and in March 2016 he cohosted a conference in Krakow, Poland which resulted in the gathering of some of the best European researchers with Dept. of Defense MIA investigators. This ultimately led to the recovery of a WWII bomber pilot in a remote region of Bulgaria.
Jerry is often called upon as a guest speaker and has spoken to groups in Germany, Italy and Poland, as well as in venues across the United States. He lives in Walnut Creek, California. All his books are available on Amazon.com and on Kindle.