The Security Airster is a two-seat single-engine monoplane designed by Bert Kinner and built by his Security National Aircraft Corporation which later became the American Aircraft Corporation.

This is the open cockpit S-1A model. The museum owns the rare sliding canopy model S-1B The Airster came on the aeronautical scene in 1933. The museum display aircraft is from 1940. It is a low-wing braced design with folding wings and a fixed landing gear. It is powered by a five-cylinder radial engine of 125 HP designated as the S5-125. Economic times were difficult and resulted in only 5 of this particular model being built.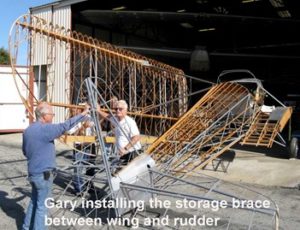 Security S-1B undergoing restoration. Shown with left wing folded (right wing is in the shop.) Wingspan 40 feet. Length 23 feet, 11 inches. Empty Weight 1,197 pounds. Gross Weight 1, 775 pounds. Cruise Speed 88 MPH.